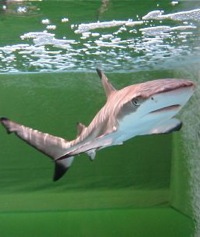 Mark Weitz and MTF Aquarium Design and Engineering have worked extensively with the film, TV and commercial production industries in Los Angeles. Mark knows how to meet the complicated needs of any production.
No job is too tough: MTF wrangled large vats of freshwater eels for "Fear Factor" and flew a full-sized shark cross country for a Verizon commercial shoot.
Need to blow up a giant aquarium? No sweat! MTF can special order a tempered glass aquarium built especially for breakaway on-stage special effects.
Here are some of the TV and film rental services provided by MTF Aquarium Design and Engineering.
Turn-key aquarium set-ups: Supplied with all equipment, including canopy tops and moveable wheel-mounted cabinet stands (optional). Delivery and strike service included.
Fast turnaround. Many shapes and sizes of aquariums readily available and direct from our inventory.
Fresh & saltwater fish: We provide healthy, acclimated fish from our own existing inventories. From goldfish to exotic saltwater species to black-tipped reef sharks.
On-set coordination: We work with some of the top art directors, prop masters and set designers in the entertainment business. Specialty lighting systems are guaranteed to look great on camera. Ultra-quiet filtration systems will satisfy the most finicky soundmen. Our hand-selected aquascaping method can be customized to enhance your set dressing and overall production design.
Fish wrangling: No animals are ever injured! We have a good rapport with the Humane Society, having earned their approval on many successful projects.
View Mark Weitz's film and television credits
View our film and TV photo gallery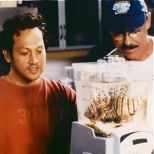 Mark Weitz has worked as a fish wrangler and aquarium consultant on more than a hundred film, TV and commercial productions. He is Hollywood's go-to guy when the script calls for fish and aquariums — everything from goldfish bowls to shark tanks.
Mark knows how to meet the complicated needs of film, TV and commercial productions. He works 100 percent with animal-safety best practices. (Photo: Mark, wearing blue cap, works with actor Rob Schneider.)
View the MTF film & TV production photo gallery,
Hollywood stars and executives trust Mark on the set — and welcome him into their homes for custom aquarium installations.
Here are some of Mark Weitz's credits for wrangling fish in film and TV:
FILM
National Lampoon's Christmas Vacation
TELEVISION
Star Trek: The Next Generation
ACTORS
HOLLYWOOD EXECS
Adam Venit (Endeavor team)
NETWORKS/STUDIOS
ABC
CBS
NBC
Fox
Disney
Paramount
DreamWorks
Universal
Warner Bros.
COMMERICAL CLIENTS