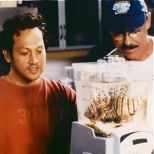 Mark Weitz has worked as a fish wrangler and aquarium consultant on more than a hundred film, TV and commercial productions. He is Hollywood's go-to guy when the script calls for fish and aquariums — everything from goldfish bowls to shark tanks.
Mark knows how to meet the complicated needs of film, TV and commercial productions. He works 100 percent with animal-safety best practices. (Photo: Mark, wearing blue cap, works with actor Rob Schneider.)
View the MTF film & TV production photo gallery,
Hollywood stars and executives trust Mark on the set — and welcome him into their homes for custom aquarium installations.
Here are some of Mark Weitz's credits for wrangling fish in film and TV:
FILM
National Lampoon's Christmas Vacation
TELEVISION
Star Trek: The Next Generation
ACTORS
HOLLYWOOD EXECS
Adam Venit (Endeavor team)
NETWORKS/STUDIOS
ABC
CBS
NBC
Fox
Disney
Paramount
DreamWorks
Universal
Warner Bros.
COMMERICAL CLIENTS