Craftsmanship and support from MTF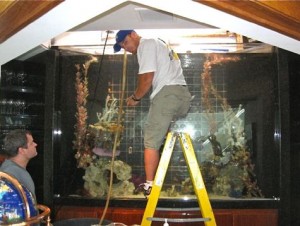 The MTF crew works with saltwater and freshwater aquariums of any size, in any place in Los Angeles County.
We offer a wide variety of services related to aquarium installations, renovations and maintenance. Our craftsmen are experts in aquatic plumbing, cabinetry, ironwork, stands and electrical services.
If you need it done, we can do it.
Here are some of the aquarium services offered by MTF Custom Aquarium Design and Engineering:
Aquarium consulting for remodels or new construction projects.
Weekly and monthly aquarium maintenance.
Upgrades of aquarium lighting to metal halide, power compact or T-5 florescent systems.
Major tank face-lifts — new life for existing tanks.
Replumbing and modernizing of outdated filtration systems.
Freshwater to saltwater conversions (and salt to fresh).
Live plant aquascaping with or without C02 injection.
Energy efficient recirculating pump upgrades.
Aquarium furniture upgrades, including wood finishes, laminates and deco-metals.
Mini-reef conversions (from fish-only to live coral systems).
Nano reef tanks delivered and set up.
Aquarium delivery and set-ups.
Tank moves to new residence (local only, two-week notice required).
Vacation feeding and maintenance.
We work throughout the Los Angeles area, notably in Sherman Oaks, Studio City, Beverly Hills, Bel Air, Glendale, Burbank, Santa Monica, Calabasas, Agoura Hills, Woodland Hills and downtown L.A.
Contact MTF for more information and quotes.