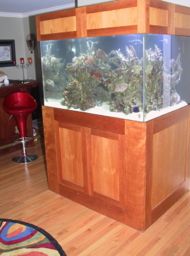 Questions and answers about our custom aquarium services.
How long will the custom aquarium installation take?
Usually two to six weeks. The size of the project and availability of the materials are the key variables in the amount of lead time required. Our vendors and suppliers are among the most reliable in the business.
How much will it cost?
Our custom installations are always bid competitively. It's important to note that we only use the highest-quality materials and equipment available in the industry today. This approach costs a bit more, but ensures you of many years of trouble-free service and enjoyment.
Will you work with my contractor?
Of course. We routinely work with clients' contractors, architects, interior designers, woodworkers, plumbers, electricians. Or we can help arrange for those services for you.
What about service and maintenance?
We service what we sell and install. Scheduled maintenance times fit within the framework of your lifestyle. Our rates are competitive, and our servicemen are skilled and professional.
Where do you get your fish and invertebrates?
From who deal in the highest-quality stock. All of the animals are hand-selected and acclimated in our Studio City retail store. We make sure all fish are in excellent health and are eating a variety of foods.
Do you do custom aquarium installations in …
We can be found working throughout the Los Angeles area, notably in Beverly Hills, Sherman Oaks, Studio City, Bel Air, Culver City, Glendale, Burbank, Encino, Santa Monica, Calabasas, Agoura Hills, Woodland Hills and downtown L.A.
Please contact MTF Aquarium Design and Engineering with any other questions.