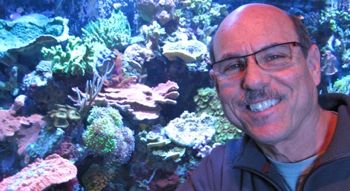 Meet L.A.'s go-to guy for custom aquarium installations:
"Our job is to deliver a slice of the ocean into your living room," Mark Weitz says of his custom aquarium installations. "This is living art."
Mark, owner of MTF Aquarium Design and Engineering, has been in the tropical fish business in Los Angeles for almost four decades.
He also owns a well-respected retail store, Mark's Tropical Fish in Studio City, serving hobbyists for over 30 years.
Mark has designed and installed custom aquariums for some of the best-known people in Southern California — stars, directors, sports figures, agents and political power brokers.
Need to get that 400-gallon aquarium into the sixth-floor conference room? Mark knows how to crane it in. The MTF crew loves a challenge, and routinely gets them.
"Nothing is cookie cutter," Mark says of his custom aquarium installations. "Everything is made to order, and built from the ground up with the best materials available in the industry."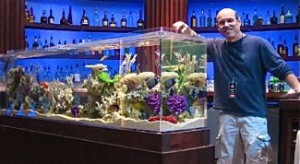 For new buildings and remodeling jobs, Mark believes that working side by side with contractors is the key to achieving clients' goals. Proper engineering, and electrical and plumbing work are essential to achieving a successful outcome.
Looks are everything. MTF aquariums and cabinets are constructed and installed to "meet the design elements of the room and surrounding areas." The aquarium interior decor (fish, rocks, corals and plants) are selected with the room's design elements in mind. That's where Mark's background as an industrial artist comes in handy.
The goal, Mark says, "is to bring life to an otherwise inanimate room."
The installation of aquariums can be quite tricky, requiring plenty of imagination and innovation. Mark always tends to the basics. Aquariums and their support systems — the hidden plumbing and filtration gear — are installed with care and precision.
"We do not experiment on our customers with unproven life-support systems," Mark says. "We use tried and proven filtration methods that have been used successfully over the years to guarantee a healthy environment for the fish." All work is guaranteed, of course.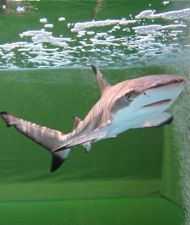 In his role as a "fish wrangler" for Hollywood movies and TV, Mark works with some of the top special effects, prop masters and set designers in the entertainment business.
He's provided and maintained large vats of freshwater eels for "Fear Factor" and flew a full-sized shark cross country for a Verizon commercial shoot. Need to blow up a giant aquarium? No sweat! MTF can special order a tempered glass aquarium built especially for breakaway on-stage special effects.
You may have seen Mark's work on the "Batman" films, the "CSI" TV series, "Seinfeld," "Curb Your Enthusiasm," "Hells Kitchen," "Big Brother" and many more film and TV shows.
Set Decorators and prop masters can depend on getting Mark and his fish onto the set or location with very short notice and in a professional manner that sets the standard in the industry.
Mark is a lifelong resident of Southern California and does custom aquarium work in the greater Los Angeles, San Fernando Valley and surrounding areas.
"I am always evolving and striving to please my clients" Mark says of his aquatic work. "I am pleased only when my client is totally happy with the outcome of the project!"
View Mark Weitz's Film & TV credits